[ad_1]

One of the prominent faces against human rights violations, abuse of power and injustice is Deji Adeyanju, a staunch critic of President Buhari's administration, who led tons of protests against the administration's injustices, brutality and electoral malpractices. Who is Deji Adeyanju? what is he advocating for?
Deji Adeyanju is a social commentator and one of the outstanding Nigerian activists of this generation.  He was one of the prominent figures during the 2020 Endsars protest, who led the protest, alongside Omoyele Sowore, at the Force Headquarters in Abuja.  He was also one of the few people who took to the street in 2021, to commemorate the first anniversary of the movement, despite several threats by the government and the police.
Deji Adeyanju Biography and Activism
Deji Adeyanju was born 9th of December 1979 in Kogi State, He acquired his secondary education at the capital Secondary School, Kaduna. He holds two degrees, one in Mass Communication at Bayero University, Kano State and LLB at Baze University, Abuja.
Deji reportedly began his activism as a student union leader at Bayero University, Kano State, where he was politically persecuted and prosecuted for his activism. He has since then registered himself as one of the outstanding Nigerian activists of this generation.
As earlier stated Deji has led multiple protests against the present administration, some of which include the arrest of Nnamdi Kanu, the leader of the Indigenous People of Biafra and Omoyele Sowore, a 2019 presidential aspirant and activist.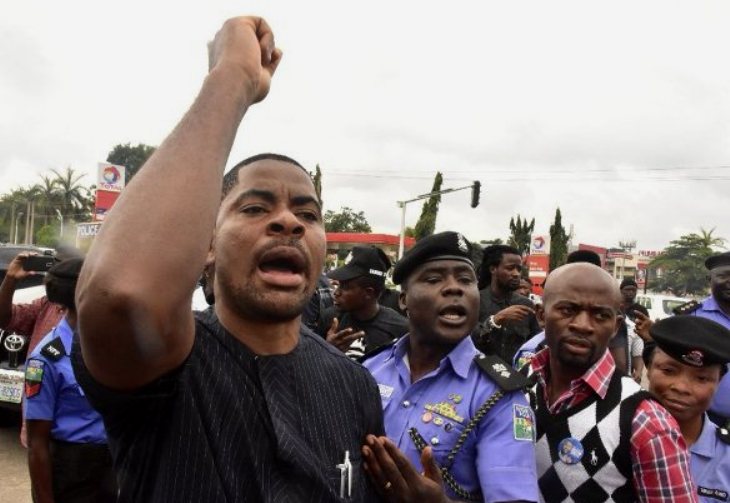 Deji led a protest against alleged police bias ahead of the  2019 general elections and was arrested and accused of defamation against senior security chiefs. He has protested against the poor state of the nation on several occasions.
He is the convener of Concerned Nigerians, a pan-African platform for the protection of human rights and the rule of law. The group, on multiple occasions, has served as a watch dog to the present administration, pointing out and condemning unconstitutional acts carried out by the police and political office holder
Carrying out these acts has however not been without its consequences, Deji Adeyanju has been arrested on multiple occasions and has been charged with murder, terrorism and treason. He spent four years in prison between 2005 and 2009 on a murder charge, he was later acquainted for.  He was detained again for 87 days in 2018, on the same charge of murder.
This multiple arrest and prosecution have however not stopped Deji from lending his voice against any form of injustice and human rights violation.
Politics and Career
Before becoming a national activist, Deji Adeyanju served as the head of News Media for the Peoples Democratic Party (PDP). He however now denies membership in any party.
Due to this past relationship, there have been several speculations that he is living off money looted by Government officials from the state. Responding to these allegations, Deji noted that he has never occupied any public office, so there was no way he could have access to public funds.
He, however, claims to run a chain of businesses and investments and the dividends and profits from these businesses have served as his source of income.  He noted in the same interview that he runs a petrol station he inherited from his father.
[ad_2]

Source link