[ad_1]

Who is Adeola Ogunmola?
Adeola Ogunmola, a Nigerian-born Commercial Pilot and the first Nigerian woman to fly with Qatar Airways, hails from Ogbomosho, Oyo state Nigeria and graduated from the Ladoke Akintola University of Technology, based in Ogbomosho.
She started her aviation career and obtained her commercial Pilot Licence from Sunrise Aviation (Ormond Beach, Florida) in 2011.
Adeola joined Medview Operations Abuja in 2013 till October 2018, first as a classic, and was later upgraded to being 767-300ER.
In October 2018, she joined Qatar Airways and became the first Nigerian Woman to fly the boring 787 Dreamliner.
Adeola Ogunmola Bio-Data
The table below provides some brief information about Adeola Ogunmola.
| | |
| --- | --- |
| Full Name | Adeola Ogunmola Sowemimo |
| Date of Birth |  October 16, 1990 |
| Place of Birth | Kaduna State |
| State Of Origin | Oyo State |
| Nationality | Nigerian |
| Marital Status | Married |
| Education | Nigerian College of Aviation Technology, Zaria |
| Occupation | Aircraft Pilot |
| Net Worth | N/A |
Education
Adeola Sowemimo is from the state of Oyo. Born on October 16, 1990, to Ogunmola Ademola and Aweni Deborah Ogunmola, she is the youngest of three children.
She went to four elementary schools, beginning with Brighton International School in Kaduna and ending with King International School in Rigasa, Kaduna. Then, she went to Kaduna's First Baptist Church Primary School.
After relocating due to the religious unrest in Kaduna at the time, she completed her elementary education at Temitope Nursery and Primary School in Ibadan in the year 2000.
She began her secondary schooling at Orita Mefa Baptist Model School in Ibadan, Oyo State, before returning to Kaduna to complete her studies at First Baptist Model High School in Angwan Boro.
She applied for a pre-degree course at Ladoke Akintola University of Technology (LAUTECH) in Oyo state after finishing secondary school, but she couldn't finish the course since she needed to start her normal aviation study at the Nigerian College of Aviation Technology in Zaria, Kaduna.
From 2009 to 2010, she completed her Standard Aviation Course. She completed her standard pilot training in 2011 at Sunrise Aviation Inc. in Florida, USA.
She applied for a part-time course at LAUTECH to study Transport Management after finishing her Sunrise Aviation course, and she obtained her Bachelor's degree.
Career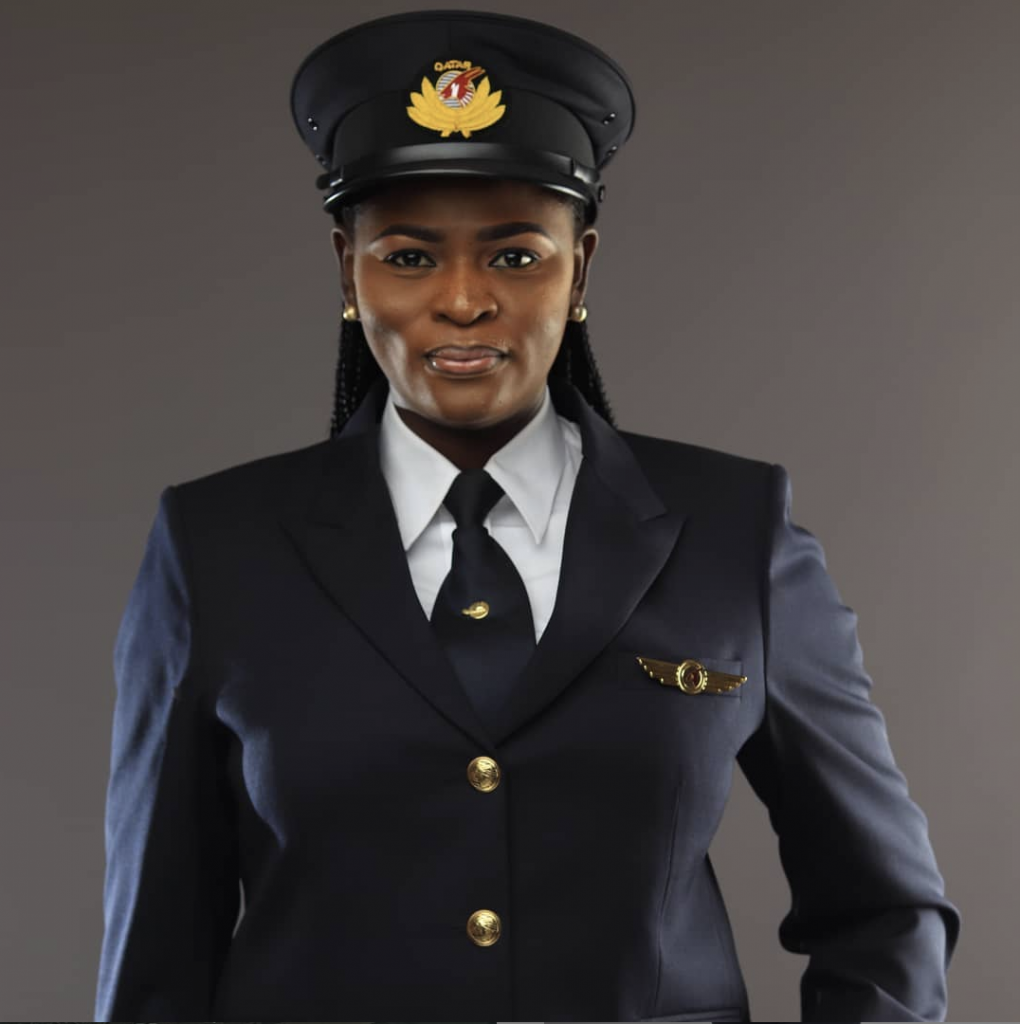 Adeola went on to have a successful job after finishing her education. She started as a First Officer on a Boeing 737 classic with Medview Airlines, a Nigerian airline based in Lagos, in 2013 and was then upgraded to a Boeing 767-300ER.
In October 2018, she joined Qatar Airways where she became the first Nigerian woman to fly the Boeing 787 Dreamliner. She also flew the Boeing 767 over the Atlantic Ocean, and she began flying the new Qatar Airways domestic Lagos to Abuja route in November 2020.
Adeola Sowemimo joins the ranks of other African female pilots who have made history, including Chinyere Kalu, the first Nigerian female commercial pilot in 1978, and Asli Hassan Abade of Somalia, who flew solo for the first time in 1976.
Notable Achievements
Adeola became the first Nigerian female pilot to work for Qatar Airways in the Middle East in 2019; a location where becoming a pilot is difficult, especially for women.
She is the first female Nigerian to fly Qatar Airways' Boeing 787 Dreamliner.
She is also the first female Nigerian pilot to fly the Boeing 767 across the Atlantic Ocean, joining Kenya's Captain Irene Koki and Ethiopia's Captain Amsale Gulau in the club.
Net Worth
Adeola Ogunmola's net worth is currently undisclosed.
She is known for her focus and persistence which helped her rise to great heights and become a pioneer in her chosen field.
[ad_2]

Source link