[ad_1]

In this article, we will discuss Peter Obi net worth and biography and everything you need to know about the potential president of Nigeria. The former Governor of Anambra State is a wealthy politician as well as a successful businessman.
From 2006 to 2014, Obi presided over Anambra State for two terms. He was a successful businessman before entering politics, holding multiple managing roles in several businesses and corporations. The former governor has advanced in both business and politics, amassed a reputation and wealth for himself, and his wealth provides him with nothing less than a pleasant life.
That said, we will discuss everything you need to know about Peter Obi, his biography, and his net worth in this guide.
Quick Fact On Peter Obi
Date of Birth
July 19, 1961
Age
60 Years, 10 Months, 18 Days
Place of Birth
Nigeria
Country
Nigeria
Profession
Politician
Net Worth
$10 million
Peter Gregory Obi is his full name, and he was born in Onitsha, Anambra State. Loved ones dubbed him "OKWUTE," which means "ROCK." He was born on the 19th of  July 1961 and received his early education in Onitsha, Anambra State.
He attended Christ the King College in Onitsha for high school. Peter Obi had his higher education at the famed University of Nigeria, Nsukka, where he graduated with a degree in Philosophy in 1984.
Peter Obi's biography is not complete without mentioning how fascinated he is with academics and knowledge. This hunger motivated him to pursue higher education outside of Nigeria at top international schools. He attended Harvard Business School in Boston, Massachusetts, and the London School of Economics, where he studied Financial Management/Business Policy; Columbia Business School in New York the USA where he studied Marketing Management.
His Career
Peter Obi was able to establish a respected corporate career with his intelligence and business aptitude. He had several managerial and business positions with a number of high-profile companies. He has worked for the following companies:
1. Next International Nigeria Ltd
2. Guardian Express Mortgage Bank Ltd
3. Guardian Express Bank Plc
4. Future View Securities Ltd
5. Paymaster Nigeria Ltd
6. Chams Nigeria Ltd
7. Corp Ltd and Card Centre Ltd
He is a member of the Nigerian Economic Summit Group (NESG), the Nigerian Chartered Institute of Bankers, and the British Institute of Directors, among other prestigious organizations (IOD).
His political career was everything but smooth, and here's why: his political career was fraught with challenges, but he conquered them all thanks to his courage and tenacity.
As a member of the All Progressives Grand Alliance, he stood for governor of Anambra in 2003. (APGA). INEC, on the other hand, declared Chris Ngige, his opponent, the winner. Peter Obi refused to accept the verdict and fought it in court for three years, eventually winning and being inaugurated as governor on March 17, 2006.
READ ALSO: Forbes Top 10 Richest Men in Nigeria in 2022
Before becoming a governor, Peter Obi worked as a trader before moving into banking. Publix Super Markets, an American supermarket operator, has even named one of its stores after him.
In 2010, Peter Obi stood for reelection as Governor of Anambra State. In the election, he defeated his opponent, former CBN governor Professor Charles Soludo. Willie Obiano remained to govern the people of Anambra for another four years after taking office in 2014.
Peter Obi ran for Vice President of Nigeria in the 2019 presidential election. In the People's Democratic Party, he was Atiku Abubakar's vice-presidential candidate. In the election, however, he was defeated by incumbent President Muhammadu Buhari. And now, he is vehemently vying for the seat of the President of Nigeria come 2023.
Peter Obi Net Worth
Peter Obi's net worth is estimated to be $10 million, according to Forbes, and Business Insider. He is one of the richest politicians in Nigeria and one of the most popular.
Peter Obi Net Worth & Salary
Net Worth
$10 million
Salary
Under Review
Source of Income
Business & Politics
Cars
 Got A Handful
House
Living In Own House.
Allowances and Earnings that Contribute to Peter Obi's Net Worth
There is no denying that Nigerian politicians, including Peter Obi, are among the wealthiest people in the world today. A state governor makes an average annual salary of N11,540,896 and an annual leave allowance of N222,370.50, while the precise amount he made as governor is unknown.
Then, at the conclusion of his employment, he is eligible to earn a gratuity of N6,671,115. Additionally, ex-Nigerian governors who served two consecutive terms in office are entitled to a home in either Abuja or Lagos of their choosing under the Public Office Holder (Payment of Pension) Law.
Once more, an ex-governor is entitled to six brand-new cars every three years, a furnishing allowance equal to 300 per cent of their yearly basic pay, and free medical care for himself and his family. This is in addition to their annual basic wage. Peter Obi's tremendous net worth was boosted by all of these.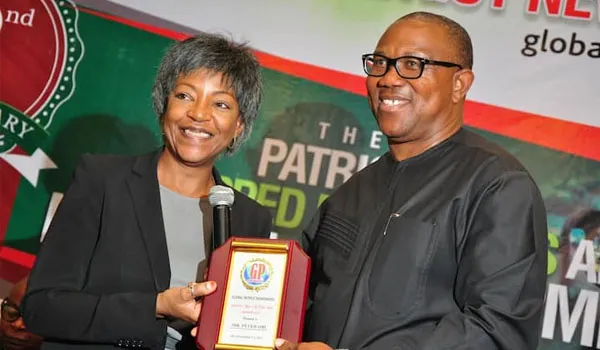 Peter Obi's Net Worth Affords Him Luxurious Houses
It goes without saying that Peter Obi has a comfortable life thanks to his $10 million fortune. Peter Obi owns two homes—one in the UK and the other in his hometown of Onitsha, Anambra State, even though he doesn't flaunt his riches or acquisitions in front of the media.
The former governor disclosed that he paid £1,000,000 for his opulent London mansion in September 1996. Peter Obi denied social media rumours that he purchased a mansion in Enugu State valued at roughly N650 million, insisting that he only owns one house in Nigeria.
Pandora Papers Accusations
Peter Obi has consistently presented himself as an open leader who supports good government, however, he has been the subject of several corruption claims.
The Pandora Papers investigation, which is the largest historical cross-border collaboration, reveals secret assets, swap deals, and hidden riches of the super-rich, former, and serving public officials around the world. It also covers a large number of previously concealed offshore firms.
Records revealed that Mr Peter Obi had been concealing parts of his financial operations when the papers were leaked in October 2021. He was accused of engaging in covert business and violating Nigerian law in at least three different ways.
One example is that 14 months after taking office as the governor of Anambra State, the former governor kept his position as a director of his UK company, NEXT International (UK) Limited.
The Code of Conduct Bureau and Tribunal Act's Section Six, according to them, is violated by this. Second, by establishing offshore corporations in tax havens like the British Virgin Islands, Mr Obi violated Section 11 of the Fifth Schedule of the 1999 Constitution.
He reportedly created shell corporations using Beauchamp Investments Limited, a Barbados-based company. The accusation was that he failed to disclose all of his riches, in violation of the Constitution's requirement that public officials disclose all of their assets both before and after taking office.
Thirdly, Peter Obi violated the law and the public service code of conduct by running a foreign account while serving as governor. A public official is not permitted to manage a bank account outside of Nigeria, according to both the Nigerian constitution and the Code of Conduct Bureau and Tribunal Act.
However, Peter Obi asserted that he promptly tendered his resignation letter to his wife after taking over the job in response to the initial accusation. He opined that his firm might not have implemented the adjustments right away or may not have properly documented his departure.
Mr Peter Obi clarified that those assets are offshore in his answer to the accusation about the disclosure of assets. His family members jointly control several businesses, and he is not under any duty to
List any joint-owned businesses or assets. He claims that he was unaware of the legal provision. That instructs declaring all assets, whether jointly owned or not
Peter Obi Awards And Honours
Peter Obi has garnered numerous awards for great business and political endeavours. Some of his honours and achievements include:
Man of the Year, Sun Newspaper, 2007
Most Prudent Governor in Nigeria, Thisday Newspaper, 2009
Nigeria's Most Trustworthy Governor, Champion Newspaper, 2009
Governor of the Year, West Africa ICT Development Award, 2010
Zik Leadership Prize, 2011
Best Performing Governor on Immunization in South-East Nigeria, Bill & Melinda Gates Foundation, 2012
Leadership and Good Governance Award, Ezeife Leadership Foundation, 2012
Golden Award on Prudence, Methodist Church of Nigeria, 2012
Man of the Year, Business Hallmark Newspaper, 2012
Man of the Year, Silverbird, 2013
Award for Outstanding Example in Leadership and Governance, The Voice Newspaper, 2014
Most Outstanding Igbo Man of the Decade, Champion Newspaper, 2014
Golden Merit Award, Nigerian Library Association, 2014
Golden Jubilee Award, Catholic Diocese of Onitsha, 2015
READ ALSO: Top 10 Richest Women In Africa (2022)
Who Is Peter Obi's Wife?
His wife is Margaret Brownson Usen,  originally Margaret Brownson Usen, a.k.a. Margaret Obi. The couple married in the year 1992. Margaret is the main force behind her husband's National Gender Affirmative Action, which ensured that at least half of the seats in Obi's cabinet were filled by women.
Margaret is known for her humility, despite her intelligence, which she concealed while working persistently and secretly to increase the popularity of her husband's government. Her uncompromising devotion to women's empowerment and child welfare is also well-known.
[ad_2]

Source link