[ad_1]

–>

Bio Data
| | |
| --- | --- |
| Full Names | Sir Michael Philip Jagger |
| Dates of Birth | 26 July 1943 |
| Gender | Male |
| Marital Status | Married |
| Career | Musician |
| Net worth  | $500 Million |
| Nationality  | British |
Read More: 
Biography
Michael Philip Jagger was born in Dartford, Kent, on 26 July 1943. His father, Basil Fanshawe "Joe" Jagger, a former gymnast, was a physical education teacher who helped popularise basketball in Britain. His mother was Eva Ensley Mary, a hairdresser and an active member of the Conservative Party. Jagger attended Wentworth Primary School where he was a classmate of Keith Richards.  He attended Dartford Grammar School after the family moved to Wilmington, Kent in 1954.
Although brought up to follow his father's career path, Jagger always sang since he was a child, he was in the church choir and loved listening to singers on the radio In the mid-1950s, Jagger formed a garage band with his friend Dick Taylor; the group mainly played material by Muddy Waters, Chuck Berry, Little Richard, Howlin' Wolf, and Bo Diddley. Jagger met Keith Richards again on 17 October 1961 on platform two of Dartford railway station, beginning a musical partnership shortly afterward.
Jagger left high school in 1961 after passing seven O-levels and two A-levels. He and Richards moved into a flat in Edith Grove, Chelsea, London, with guitarist Brian Jones. While Richards and Jones planned to start their own rhythm and blues group, Jagger continued to study finance and accounting on a government grant as an undergraduate student at the London School of Economics. He had seriously considered becoming either a journalist or a politician, comparing the latter to a pop star.
Career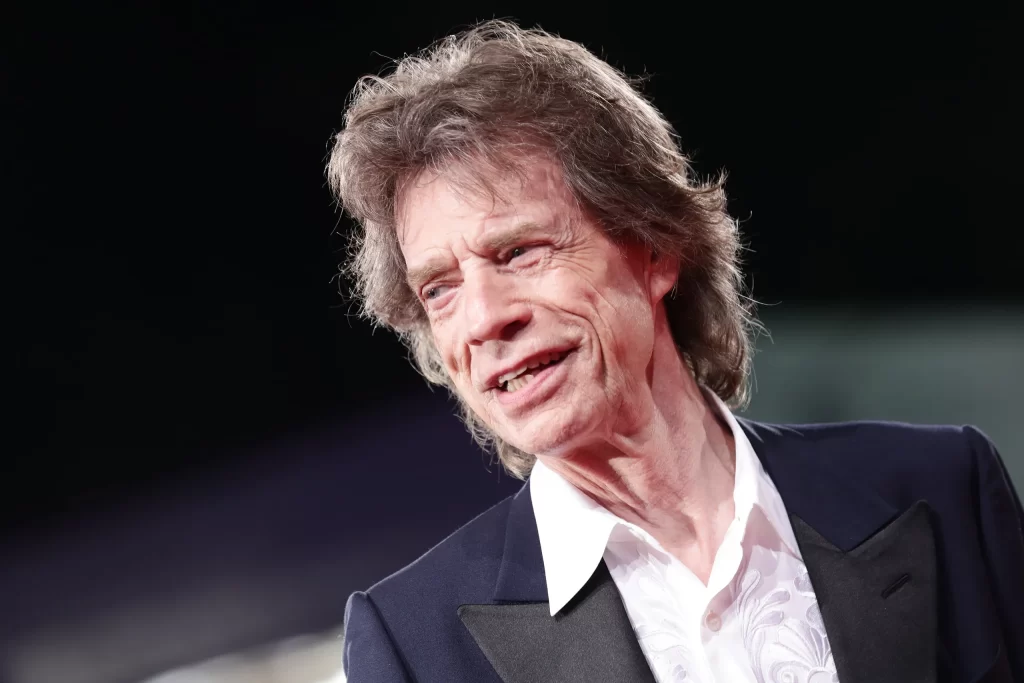 Mick Jagger abandoned his studies at the London School of Economics to join the Rolling Stones. He wrote most of the Rolling Stones' songs together with Richards, and they continue to collaborate musically.  His distinctive voice and energetic live performances, along with Richards' guitar style, were Rolling Stones' trademark throughout the band's career.
In the late 1960s, Jagger starred in the films Performance (1970) and Ned Kelly (1970), to a mixed reception. Beginning in the 1980s, he released a number of solo works, including four albums and the single "Dancing in the Street", a 1985 duet with David Bowie that reached No. 1 in the UK and Australia and was a top-ten hit in numerous other countries.
In the 2000s, he co-founded a film production company, Jagged Films, and through them has produced feature films, beginning with the 2001 historical drama Enigma. He began a solo recording career in 1985, releasing his first album, She's the Boss, and joined the electric supergroup SuperHeavy in 2009.
Jagger gained press notoriety for his romantic involvements and illicit drug use and was often portrayed as a countercultural figure. Relationships with the Stones' members, particularly Richards, deteriorated during the 1980s, but Jagger has always found more success with the band than with his solo and side projects.
Honors and Accolades
As earlier stated, Mick Jagger is widely considered as one of the most popular and influential frontmen in the history of rock & roll.  He is also responsible for bringing style and sexiness to rock and roll, becoming a trailblazer in pop music that subsequent generations of musicians have followed.
In 1989, Jagger was inducted into the Rock and Roll Hall of Fame, and into the UK Music Hall of Fame with the Rolling Stones in 2004. As a member of the Rolling Stones, and as a solo artist, he reached No. 1 on the UK and US singles charts with 13 singles, the top 10 with 32 singles, and the top 40 with 70 singles.
–>

Mick Jagger Net Worth
Mick Jagger is one of the richest musicians in the United Kingdom, with an estimated net worth of $500 Million. Like legendary singers, Mick made his money from record sales, stage performances, investment, and endorsement deals.  According to Fortune, Rolling Stones generated more than US$1.5 billion in total gross revenue, from 1989 to 2001, exceeding that of U2, Bruce Springsteen, or Michael Jackson.
The group's Voodoo Lounge Tour grossed $320 million, becoming the world's highest-grossing tour at the time. In 2007, the band grossed US$437 million on their A Bigger Bang Tour, which earned them an entry in the 2007 edition of Guinness World Records for the most lucrative music tour.
Jagger was in a relationship with fashion designer L'Wren Scott from 2001 until her suicide in 2014. She left her entire estate, estimated at US$9 million, to him.
[ad_2]

Source link